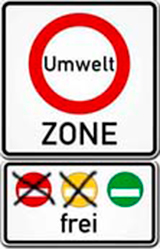 The Leipzig Environmental Zone
The city of Leipzig may only be used by vehicles with the green environmental badge. However, this is not a problem for our guests.
Leave your vehicle in our parking-area directly at the hotel, stay overnight with us and drive from the nearby train station in just 15 minutes with the S-Bahn to Leipzig Central Station in the middle of the city center. You also save the parking fees.
Do not let this driving ban dissuade you from your visit to Leipzig - you would miss a lot.
Visit the world and trade fair city of Leipzig with the many attractions, cabarets, the zoo, etc., without parking problems and you can also with a good conscience a "Gose beer" and a "Allasch", the Leipzig Kümmellikör, in one of many restaurants approve.
We are looking forward to your visit.
Please note:
Euro 100,00 for non-compliance